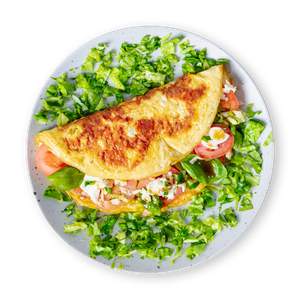 Italian Style Omelet
Enjoy our vegetarian recipe Italian Style Omelet by feastr. Ideal to lose weight. Low Carb, High Protein, and very tasty.
Recipe instructions:
1
Whisk the eggs in a bowl, season with salt and pepper and add the chives.
3 Eggs (~ 5.8 oz)

2 Tbsp Low fat milk

Salt

Black pepper
2
Slice the tomato and mozzarella.
3
Heat the oil in a no stick frying pan on medium heat. Add the egg mixture into the pan and fry for approx. 3-5 minutes until the eggs start to set.
1 tsp Olive oil
4
Add the mozzarella, salad and tomatoes onto one half, fold the omelet and keep frying until the cheese is melted.
5
Finely chop the basil. Serve the omelette and top with basil and balsamic glaze.