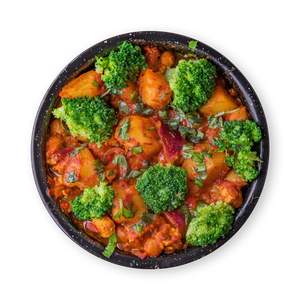 Indian Broccoli Potato Stew
Enjoy our vegan recipe Indian Broccoli Potato Stew by feastr. Ideal to lose weight. Balanced and very tasty.
Recipe instructions:
1
Take the broccoli out of the freezer and let defrost.
7.1 oz Broccoli, frozen
2
Bring a pot of salted water to a boil. Peel the potatoes and dice them into approx. ¾ in cubes. Add the potatoes to the pot and cook them until done.
3
Dice the onion and put in a bowl. Finely chop the garlic and chili and put in a second bowl.
1 Onion, red (~ 3 oz)

1 Garlic clove (~ 0.1 oz)

½ Chili pepper (~ 0.1 oz)
4
Heat the canola oil in a pot over low heat and fry the cumin for approx. 1 minute.
1 tsp Canola oil

1 tsp Cumin, ground
5
Turn the heat to medium, add the onions and broccoli and fry until the onions turn translucent.
6
Add the garlic, chili, and turmeric. Fry for 2 minutes.
¼ tsp Turmeric, ground
7
Drain the potatoes and add them to the pot. Fry for 2 minutes.
8
Stir in the chickpeas, vegetable broth, chopped tomatoes, and Garam Masala. Let simmer for approx. 10 minutes.
9
Season with salt and pepper.
Salt

Black pepper