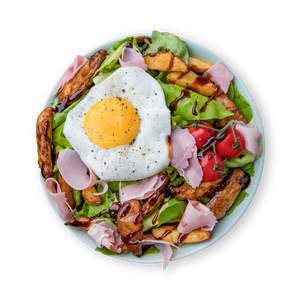 Hiker's Ham Salad
Ham, eggs, salad, and some crispy potatoes. This is what a delicious salad should look like. Treat yourself to our Hikers Salad.
Recipe instructions:
1
Preheat the oven to 350 °F.
2
Cut the potatoes into wedges and spread onto a baking tray lined with parchment paper. Add the olive oil, paprika powder, and salt. Mix well.
7.1 oz Potatoes (w/o skin)

1 tsp Olive oil

½ tsp Sweet paprika, ground

Salt
3
Bake for approx. 25 minutes until golden brown.
4
Rinse and drain the lettuce, cut into bite-size pieces and put into a bowl.
5
Cut the ham into bite-size pieces, halve the tomatoes and add both to the bowl.
2.1 oz Ham

3.5 oz Cherry tomatoes
6
Add the balsamic vinegar, olive oil, honey and mustard to a mason jar. Screw the lid on tightly and shake vigorously until combined. Season with salt and pepper.
2 tsp Balsamic vinegar

1 tsp Olive oil

1 ⁠½ tsp Honey

1 tsp Yellow mustard

Salt

Black pepper
7
Heat the canola oil in a non-stick frying pan over medium heat. Add the eggs and fry until the whites are set, but the yolks are still runny.
1 tsp Canola oil

2 Eggs (~ 3.9 oz)
8
Drizzle the dressing over the salad and toss lightly until coated evenly. Serve with the potatoes and fried eggs.