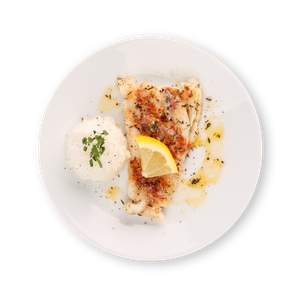 Herb and Garlic Baked Cod on a Bed of Rice
Enjoy our recipe Herb and Garlic Baked Cod on a Bed of Rice by feastr. Ideal to lose weight. High Protein and very tasty.
Recipe instructions:
1
Take the cod out of the freezer. Place the cod in a bowl with lukewarm water. Change the water every minute until the cod is defrosted. Put on a plate and pat dry. Finely chop the onion and garlic.
10.6 oz Cod, frozen (or pollock, frozen)

1 Onion, yellow (~ 2.8 oz)

2 Garlic cloves (~ 0.2 oz)
2
Heat the olive oil in a pot over medium heat. Fry the onions and half of the garlic until the onions turn translucent. Add the rice and fry for approx. 2 minutes.
2 tsp Olive oil

½ cup Rice
3
Stir in the tomato paste, chopped tomatoes, and water and bring to a boil.
4
Season with salt and pepper. Let simmer over medium heat for approx. 20 minutes until the rice is cooked.
Salt

Black pepper
5
Preheat the oven to 400 °F. Line a baking tray with parchment paper and place the cod fillets on the parchment paper.
6
Drizzle with olive oil and lemon juice.
2 tsp Olive oil

½ Lemon (~ 1 oz)
7
Season the cod fillets with salt, pepper thyme, paprika, and the remaining garlic.
Salt

Black pepper

1 tsp Thyme leaves, dried

1 tsp Sweet paprika, ground
8
Bake the fish for approx. 12-15 minutes until golden brown.
9
Serve the cod on a bed of rice.