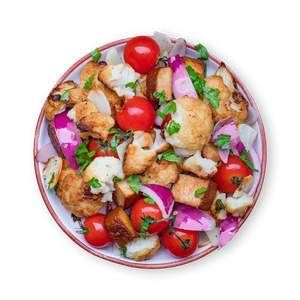 Hearty Cauliflower Stir-Fry with Smoked Tofu
Enjoy our vegan recipe Hearty Cauliflower Stir-Fry with Smoked Tofu by feastr. Ideal to lose weight. Low Carb, High Protein, and very tasty.
Recipe instructions:
1
Bring a pot of salted water to a boil.
Salt
2
Remove the cauliflower florets from the stem. Cut off approx. 1 in of the end of the stem, peel and cut the rest into bite-size pieces. Cook the cauliflower florets and stem in boiling water until soft and drain them.
3
Coarsely chop the onion, finely chop the garlic, dice the smoked tofu and put everything in a bowl.
4
Heat the canola oil in a non-stick frying pan over medium heat. Fry the cauliflower until golden brown.
1 tsp Canola oil
5
Add the smoked tofu, onions, and garlic and fry until the tofu is crispy.
6
Halve the cherry tomatoes. Fry the tomatoes and rosemary for approx. 2-3 minutes and season with salt and pepper.
7
Finely chop the parsley. Serve the cauliflower on a plate and garnish with parsley.