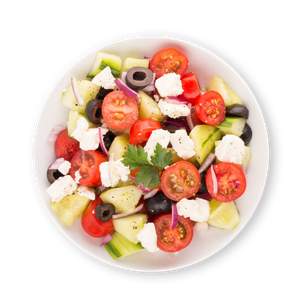 Greek Salad
Enjoy our vegetarian recipe Greek Salad by feastr. Ideal to lose weight. Low Carb, High Protein, and very tasty.
Recipe instructions:
1
Coarsely chop the tomatoes. Cut the cucumber lengthwise into quarters and slice them. Halve and thinly slice the onion and put everything in a bowl.
3 Tomatoes (~ 12.7 oz)

½ Cucumber (~ 7.8 oz)

½ Onion, red (~ 1.5 oz)
2
Season with salt, mix thoroughly and let sit for approx. 5 minutes
Salt
3
Add the olive oil and oregano and season with pepper.
4
Add the olives and crumble the feta into the bowl.