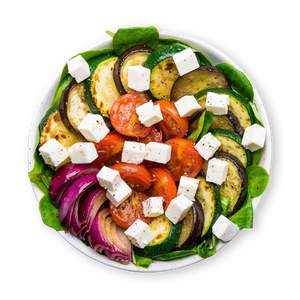 Greek Salad with Grilled Veggies
Enjoy our recipe Greek Salad with Grilled Veggies by feastr. Ideal to gain weight and build muscles. High Protein and very tasty.
Recipe instructions:
1
Finely dice the eggplant and zucchini, transfer to a colander, salt generously and let sit for approx. 10 minutes.
½ Eggplant (~ 5.6 oz)

1 Zucchini (~ 7.8 oz)
2
Finely slice the onion and halve the tomatoes and put them into two seperate bowls.
3
Heat the olive oil in a non-stick frying pan over medium heat. Sauté the eggplant, zucchini, and onions for approx. 4-5 minutes until the onions turn translucent.
1 ⁠½ tsp Olive oil
4
Add the lemon juice, yogurt, salt, and pepper into a mason jar. Screw the lid on tightly and shake vigorously until combined.
½ Lemon (~ 1 oz)

1⁄3 cup Low fat yogurt

Salt

Black pepper
5
Mix the vegetables with arugula and tomatoes.
1.4 oz Arugula
6
Crumble the feta over the salad and serve with the yogurt dip and a slice the of wholemeal bread.