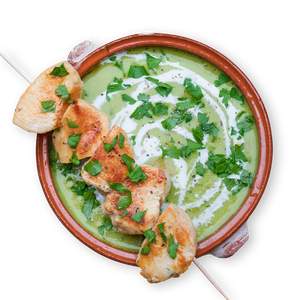 Grandma's Pea Soup with Chicken Skewers
Enjoy our recipe Grandma's Pea Soup with Chicken Skewers by feastr. Ideal to lose weight. High Protein and very tasty.
Recipe instructions:
1
Cut the green onion into rings. Peel and dice the potatoes into approx. ¾ in cubes.
2
Heat the olive oil in a pot over medium heat. Fry the green onion and potatoes for approx. 5 minutes until the potatoes start to brown.
1 tsp Olive oil
3
Add the peas to the pot and fry until defrosted.
4
Pour in the vegetable broth, bring to a boil and season with salt, pepper, and dill. Let simmer for approx. 10 minutes until the potatoes are cooked.
5
Blend the soup with an immersion blender and stir in the cream cheese and let simmer.
2 Tbsp Cream cheese
6
Cut the chicken breast into bite-size pieces. If you want thread them on wooden skewers.
5.3 oz Chicken breast
7
Heat the canola oil in a non-stick frying pan over high heat. Fry the chicken/chicken-skewers until golden brown. Turn the heat to medium and keep frying until cooked through. Season with salt and pepper and set aside.
1 tsp Canola oil

Salt

Black pepper
8
Finely chop the parsley. Serve the soup and top with the parsley and chicken skewers.