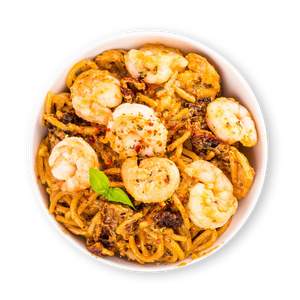 Garlic Shrimp Pasta
Whole grain spaghetti with homemade Pesto Rosso and fried shrimp. We recommend to take the frozen shrimp out of the freezer early.
Recipe instructions:
1
Take the shrimps out of the freezer and place in a bowl with lukewarm water. Change the water after every minute until defrosted. Put the shrimps on a plate and carefully pat dry. Cook the pasta according to the package instructions, drain and make sure to save some of the pasta water.
2
Finely chop the tomatoes and garlic and grate the Parmesan. Put the Parmesan in a small bowl.
1.4 oz Tomatoes, sun-dried, in oil

2 Garlic cloves (~ 0.2 oz)

0.9 oz Parmesan cheese
3
Heat the olive oil in a non-stick frying pan over medium heat. Fry the tomatoes and garlic for 1-2 minutes. Add the shrimps, fry for an additional 2 minutes and set aside.
1 tsp Olive oil
4
Add the ingredients listed below. Bring to a boil and cook until the sauce is creamy. Turn the hear off, add the Parmesan and shrimp and warm it with the remaining heat.
½ cup Low fat milk

½ tsp Basil leaves, dried

½ tsp Sweet paprika, ground

½ tsp Crushed pepper
5
Add the pasta to the sauce and mix well. If the sauce is too dry, stir in a little of the pasta water. Season with salt and pepper.
Salt

Black pepper