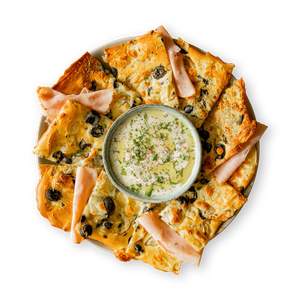 Focaccia with Mozzarella and Ham
Focaccia, but different. Warm, out of the oven, topped with mozzarella and ham, the first bite catapults you straight to Italy.
Recipe instructions:
1
Preheat the oven to 400 °F.
2
Slice the onion, halve the olives, finely dice the garlic and add everything into a bowl.
3
Add all ingredients mentioned below into a second bowl and mix until you get a smooth batter.
½ cup Flour, all-purpose

¼ tsp Baking powder

2 Eggs (~ 3.9 oz)

3 ⁠½ Tbsp Low fat milk

Salt
4
Thinly slice the mozzarella. Pour the batter onto a baking tray lined with parchment paper, top with garlic, onion, olives, ham and mozzarella and bake for approx. 20 minutes.
1.8 oz Ham, smoked

2.5 oz Mozzarella
5
Finely chop the basil and mix with the yogurt, olive oil, honey, balsamic vinegar, salt and pepper.
6 leaves of Basil, fresh (~ 0.1 oz)

1⁄3 cup Low fat greek yogurt

1 tsp Olive oil

¾ tsp Honey

½ tsp Balsamic vinegar

Salt

Black pepper
6
Take the baking tray out of the oven, cut the fakecaccia into pieces and serve with the yogurt.