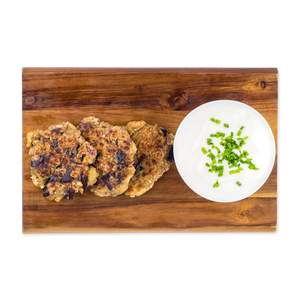 Eggplant Fritters
Enjoy our vegetarian recipe Eggplant Fritters by feastr. Ideal to lose weight. High Protein and very tasty.
Recipe instructions:
1
Dice the eggplant into approx. ½ in cubes, transfer to a colander, salt generously, let sit for approx. 10 minutes wash of the salt and squeeze out as much liquid as you can.
1 Eggplant (~ 11.3 oz)

Salt
2
Finely chop the onion and garlic and put into a bowl.
½ Onion, yellow (~ 1.4 oz)

½ Garlic clove (~ 0.1 oz)
3
Heat the olive oil in a non-stick frying pan over medium heat. Fry the eggplant cubes for approx. 2-3 minutes until golden brown. Set aside and let cool for a few minutes.
2 tsp Olive oil
4
Add the eggs into the bowl and whisk.
2 Eggs (~ 3.9 oz)
5
Add the soy sauce, breadcrumbs, eggplant, and thyme to the bowl. Mix thoroughly until a moldable dough forms. Season with salt and pepper.
6
Form the mixture into fist-sized, approx. ½ in thick patties.
7
Heat the olive oil in the non-stick frying pan over medium heat and fry the patties for approx. 4-5 minutes from both sides until golden brown.
1 tsp Olive oil
8
Mix the yogurt and water until creamy and season with salt, pepper, and lemon juice.
9
Serve the eggplant fritters with the yogurt dip.