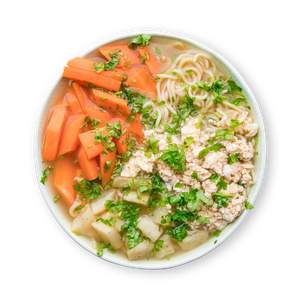 Eggcelent Noodle Soup
Enjoy our vegetarian recipe Eggcelent Noodle Soup by feastr. Ideal to lose weight. Balanced and very tasty.
Recipe instructions:
1
Whisk the egg in a bowl and season with pepper.
1 Egg (~ 1.9 oz)

Black pepper
2
Coarsely dice the celery, carrot and parsnip.
3
Heat the olive oil in a pot over medium heat and fry the vegetables for approx. 5 minutes until it starts to brown.
1 tsp Olive oil
4
Pour in the vegetable broth, bring to a boil and season with salt, pepper, parsley, and allspice. Let simmer for approx. 10 minutes until the vegetables are cooked but still have a bite to them.
5
Add the noodles and let simmer until the noodles are tender. Add the egg mixture and let simmer, stirring constantly until the egg mixture begins to set.
1.8 oz Egg noodles
6
Finely chop the parsley, stir into the soup and serve.