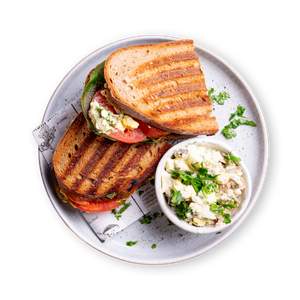 Egg-Tomato-Tuna-Sandwich
Enjoy our recipe Egg-Tomato-Tuna-Sandwich by feastr. Ideal to lose weight. High Protein and very tasty.
Recipe instructions:
1
Boil theeggsfor 10min in a pot. Refresh with cold water, peel and cut them into small pieces.
2 Eggs (~ 3.9 oz)
2
Finely slice the capers and cut the tomatoes into slices.
3
Mix the egg, capers, cottage cheese, cream cheese and tuna in a bowl. Season with salt and pepper.
½ cup Cottage cheese, low fat

1 Tbsp Cream cheese

3.5 oz Tuna, canned in water

Salt

Black pepper
4
(optional) Toast the bread in a pan or in a toaster.
3.5 oz Whole wheat bread
5
Garnish one half of the bread with the egg creme, lettuce leafs and tomato slices. Top with the other half. Serve with the remaining egg salad.