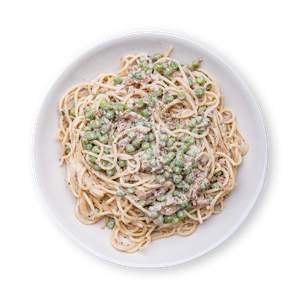 Creamy Spaghetti with Peas
Enjoy our vegetarian recipe Creamy Spaghetti with Peas by feastr. Ideal to lose weight. Balanced, quick, and very tasty.
Recipe instructions:
1
Take the peas out of the freezer. Put them in a colander and let defrost.
2
Cook the spaghetti according to the package instructions.
3
Finely chop the onion and garlic.
4
Heat the canola oil in a non-stick frying pan over medium heat. Fry the onions and garlic until the onions turn translucent.
1 tsp Canola oil
5
Add the peas into the pan and fry for approx. 2-3 minutes.
6
Add the double cream and let simmer for another 2 minutes.
1⁄3 cup Whipping cream
7
Season with lemon juice, salt, pepper, and oregano and let simmer for another 2-3 minutes.
8
Serve the spaghetti with the sauce.