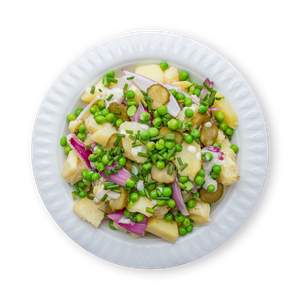 Creamy Potato Salad with Peas
Enjoy our vegan recipe Creamy Potato Salad with Peas by feastr. Ideal to lose weight. Balanced and very tasty.
Recipe instructions:
1
Bring a pot of water to a boil and salt generously.
Salt
2
In a colander rinse and drain the peas with warm water and put in a bowl.
½ cup Green peas, frozen
3
Peel the potatoes. Cook them until tender, drain and let cool.
4
Finely chop the onion. Slice the gherkins and add both to the bowl.
5
Cut the potatoes into thin slices and add to the bowl.
6
In a bowl, mix the soy yogurt, vinegar, mustard, and olive oil. Pour over the potato salad and mix well.
7
Finely chop the chives. Season the potato salad with salt and pepper and top with the chives.