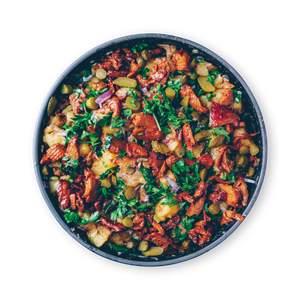 Creamy Potato Salad with Soy Strips
This potato salad with soy strips has stolen the show at every buffet we have brought it to. So we turned it into a main course.
Recipe instructions:
1
Prepare vegan meat substitute according to the package instructions.
2
Bring a pot of water to a boil.
Salt
3
Peel the potatoes. Cook them until tender, drain and let cool.
4
Heat the canola oil in a non-stick frying pan over high heat. Fry the vegan meat substitute until golden brown. Add honey, soy sauce, and garlic powder, cook for another 1-2 minutes and put in a bowl.
1 tsp Canola oil

2 tsp Soy sauce, light

2 tsp Honey

½ tsp Garlic powder
5
Finely chop the onion. Thinly slice the gherkins and spring onion and add everything to the bowl.
6
Cut the potatoes into thin slices and add to the salad bowl.
7
In a bowl, mix the vegetable broth, vinegar, mustard, and olive oil. Pour over the potato salad and mix well.
1⁄3 cup Vegetable broth

2 tsp White vinegar

½ tsp Yellow mustard

2 tsp Olive oil
8
Finely chop the parsley. Season the potato salad with salt and pepper and top with parsley.