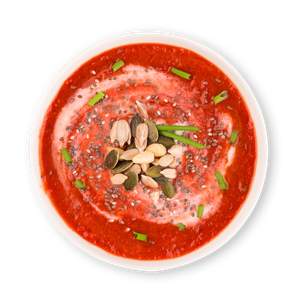 Creamy Beetroot Soup
Enjoy our vegan recipe Creamy Beetroot Soup by feastr. Ideal to lose weight. Balanced and very tasty.
Recipe instructions:
1
Coarsely chop the beetroot, onion, and garlic. Slice the carrots and leek.
8.8 oz Beets, cooked

1 Onion, yellow (~ 2.8 oz)

2 Garlic cloves (~ 0.2 oz)

2 Carrots (~ 6.7 oz)

1 Leek (~ 6.3 oz)
2
Heat the coconut oil in a pot over medium heat. Fry the vegetables for approx. 5-7 minutes.
2 tsp Coconut oil
3
Add the vegetable broth, cover with the lid and let simmer for approx. 5-10 minutes until the vegetables are cooked.
2 cups Vegetable broth
4
Toast the sunflower and pumpkin seeds on medium heat in a non-stick frying pan without oil until golden brown and set aside.
1 Tbsp Sunflower seeds

1 Tbsp Pumpkin seeds
5
Blend the vegetables with an immersion blender until smooth. Season with salt.
Salt
6
Serve the soup in a bowl and top with the roasted seeds, chia seeds, and coconut milk.
1 ⁠½ tsp Chia seeds

2 ⁠½ Tbsp Coconut milk