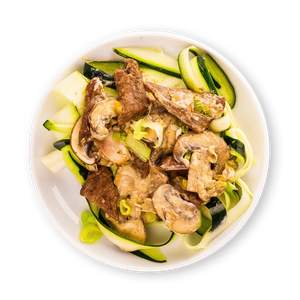 Cream Beef Strips with Zoodles
Enjoy our recipe Cream Beef Strips with Zoodles by feastr. Ideal to lose weight. Low Carb, High Protein, and very tasty.
Recipe instructions:
1
With a peeler, peel zucchinis and carrot thinly down to the core and place the zucchini and carrot peels in a bowl. Finely dice the cores.
2 Zucchinis (~ 15.5 oz)

1 Carrot (~ 3.4 oz)
2
Cut the green onions into rings. Clean and slice the mushrooms.
3
Cut the meat into thin strips.
7.1 oz Sirloin steak
4
Heat the canola oil in a non-stick frying pan over high heat. Fry the beef until golden brown. Remove from the pan and set aside.
1 tsp Canola oil
5
Heat the canola oil in the pan. Fry the green onions, carrots, zucchini, and mushrooms until the green onions turn translucent.
1 tsp Canola oil
6
Mix the starch with cold water.
2 tsp Cornstarch

2 Tbsp Water
7
Stir in the vegetable broth, sour cream, rosemary, mustard, and bring to a boil. Add the starch-water mix and let simmer until creamy.
8
Add the beef strips and zoodles to the pan, turn off the heat and warm with the residual heat.
9
Season with salt and pepper, give it a good stir and serve.
Salt

Black pepper