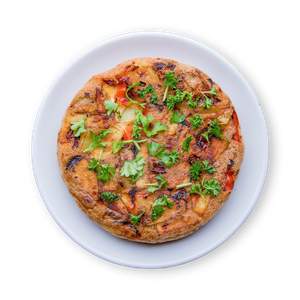 Classic Spanish Tortilla
Enjoy our vegetarian recipe Classic Spanish Tortilla by feastr. Ideal to lose weight. Balanced and very tasty.
Recipe instructions:
1
Dice the potatoes and pepper into approx. ½ in cubes and put them in separate bowls. Finely chop the garlic and add into to the bowl with the peppers.
7.1 oz Potatoes (w/o skin)

½ Bell pepper, red (~ 2.6 oz)

1 Garlic clove (~ 0.1 oz)
2
Heat the canola oil in a non-stick frying pan over medium heat. Add the potatoes and fry until golden brown.
1 tsp Canola oil
3
Add the paprika and garlic and fry for approx. 5-6 minutes. Season with salt and pepper.
Salt

Black pepper
4
In a bowl, mix the eggs with milk until combined. Season with salt, pepper, and chili.
2 Eggs (~ 3.9 oz)

2 Tbsp Low fat milk

Salt

Black pepper

½ tsp Crushed pepper
5
Pour the egg mixture over the potatoes cover with a lid and cook on medium heat for approx. 10-15 minutes.
6
Invert on a plate and slide back into the pan and cook for approx. 10 minutes. Finely chop the parsley. Serve the tortilla on a plate and top with the parsley.