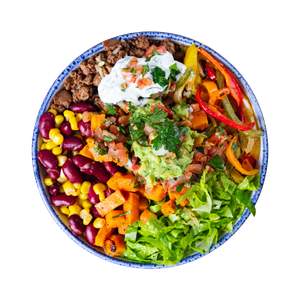 Classic Mexican Burrito Bwol
Our vegan take on a classic dish from Mexico. Try our #Veganuary burrito bowl. Packed with delicious flavors and a good amount of protein.
Recipe instructions:
1
Preheat the oven to 350 °F.
2
Crumble the tofu with your hand, place in bowl, add the remaining ingredients, mix well and let marinate.
4.9 oz Tofu

1 ⁠½ Tbsp Soy sauce, light

1 tsp Agave syrup

½ tsp Oregano leaves, dried

½ tsp Hot paprika, ground

½ tsp Cumin, ground

1 tsp Canola oil
3
Dice the sweet potato, halve the onion, and slice them. Slice the bell pepper and place on a baking tray lined with parchment paper.
3.5 oz Sweet potatoes (w/o skin)

½ Onion, yellow (~ 1.4 oz)

½ Bell pepper, green (~ 2.4 oz)
4
Add the spices and oil to the baking tray, mix well, add the tofu and bake for 15-25 minutes.
5
Cook the rice according to the package instructions.
1⁄3 cup Rice
6
Mix cream cheese with water. Finely chop the parsley, add, and season with salt and pepper.
1 ⁠½ Tbsp Vegan cream cheese

1 twig of Parsley, fresh or frozen (~ ½ tsp)

Salt

Black pepper
7
Dice the veggies and herbs, season with lime juice, salt, and pepper.
8
Peel the avocado remove the pit and mash with a fork.
½ Avocado (~ 3.5 oz)
9
Coarsely chop the salad. Drain corn and beans.
½ Romaine lettuce (~ 2.1 oz)

1⁄3 cup Sweet corn, canned

¼ cup Kidney beans, canned
10
Serve the rice, salad, oven veggies, tofu, corn and kidney beans in a bowl and top with yogurt-dip, tomato salsa and avocado.