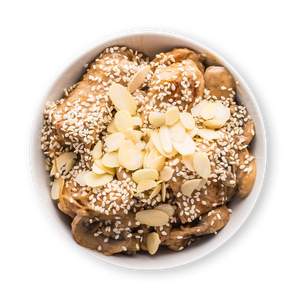 Chicken Korma
Enjoy our recipe Chicken Korma by feastr. Ideal to lose weight. Low Carb, High Protein, and very tasty.
Recipe instructions:
1
Toast the almonds and sesame on medium heat in a non-stick frying pan without oil until golden brown and set aside.
2
Cut the chicken breast into bite-size pieces.
7.1 oz Chicken breast
3
Coarsely dice the zucchini and pepper and put into a bowl. Chop the onion and put into a second bowl.
½ Zucchini (~ 3.9 oz)

1 Bell pepper, red (~ 5.1 oz)

1 Onion, yellow (~ 2.8 oz)
4
Heat the canola oil in the non-stick frying pan over medium heat. Fry the chicken until golden brown and set aside.
2 tsp Canola oil
5
Add the onions into the frying pan and fry until translucent. Add the zucchini and pepper and fry for approx. 4-5 minutes.
1 tsp Canola oil
6
Add the ingredients listed below and mix.
1 tsp Curry powder

½ tsp Curry paste, red

¾ tsp Turmeric, ground

Salt

Black pepper

½ cup Low fat milk
7
Stir in the starch, transfer the chicken back into the pan and let simmer until the sauce thickens.
1 tsp Cornstarch
8
Chop the parsley. Serve the chicken and sauce and top with the parsley, almonds, and sesame.