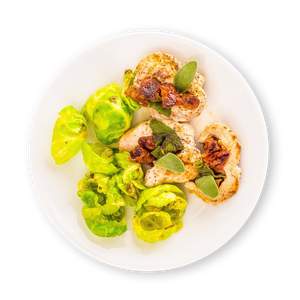 Chicken and Sage Roulades
Enjoy our recipe Chicken and Sage Roulades by feastr. Ideal to lose weight. Low Carb, High Protein, and very tasty.
Recipe instructions:
1
Trim off the bottom stem of the sprouts, drain the tomatoes and cut into strips. Rinse and drain the sage leaves. Put the sprouts in a bowl and tomatoes and sage leaves on a plate.
5.3 oz Brussels sprouts

1.8 oz Tomatoes, sun-dried, in oil

6 leaves of Sage, fresh (~ 0.1 oz)
2
Season the chicken cutlets from both sides with salt and cayenne pepper. Top with the tomatoes and sage leaves, roll up tightly and pierce the ends with a toothpick to prevent them from falling apart.
3
Heat the oil in a non-stick frying pan over medium heat. Fry the rolls until golden brown all over. Turn frequently. Make sure the chicken is fully cooked.
2 tsp Canola oil
4
Fry the brussels sprouts for approx. 2-3 minutes. Add the cream, thyme and let simmer for approx. 2-3 minutes. Season with salt and pepper.
5
Serve the chicken with your sauce.