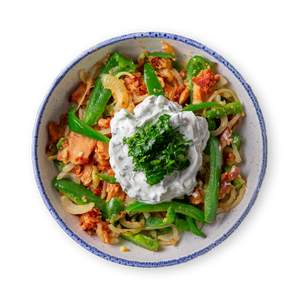 Chicken and Cheese Bowl
Looking for an easy and delicious bowl for lunch or dinner? Look no further and try our chicken and cheese bowl.
Recipe instructions:
1
Cut the chicken breast into bite-size pieces.
7.1 oz Chicken breast
2
Finely chop the parsley, add yogurt, and season with salt and pepper.
1 ⁠½ Tbsp Low fat greek yogurt

2 tsp Water

1 twig of Parsley, fresh or frozen (~ ½ tsp)

Salt

Black pepper
3
Halve the onion and slice. Core the bell pepper, cut into strips and set aside seperately.
1 Onion, yellow (~ 2.8 oz)

1 Bell pepper, green (~ 4.8 oz)
4
Heat the butter in a non-stick frying pan over high heat. Fry the chicken until golden brown. Turn the heat to medium and keep frying until cooked through. Take out of the pan and set aside.
1 ⁠½ tsp Butter
5
Add the butter and onions into the pan and fry until the onions turn translucent. Add the bell pepper and fry for an additional 2-3 minutes.
1 ⁠½ tsp Butter
6
Turn off the heat, add the chicken into the pan alongside the cheese. Stir until the cheese starts melting.
7
Serve the content of the pan with the yogurt dip.