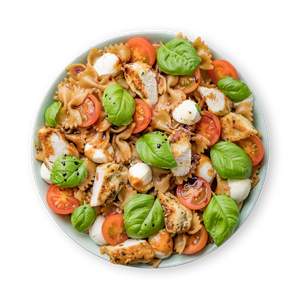 Caprese Pasta Salad with Chicken
Enjoy our recipe Caprese Pasta Salad with Chicken by feastr. Ideal to gain weight and build muscles. High Protein and very tasty.
Recipe instructions:
1
Cook the pasta according to the package instructions, drain and put in a bowl.
2
Cut the chicken into bite-size pieces.
5.3 oz Chicken breast
3
Grate Parmesan and put in a deep plate. Add the egg and whisk until combined.
0.5 oz Parmesan cheese

1 Egg (~ 1.9 oz)
4
Put the flour on a plate. One at a time, dredge cutlets in flour until the surface is covered. Dip in the egg-Parmesan mixture to coat. Allow the excess to drip off for a few seconds, and put on a plate.
5
Heat the olive oil in a non-stick frying pan over medium heat and fry the chicken pieces until golden brown from all sides.
1 tsp Olive oil
6
Finely chop the onion and mix with vinegar, olive oil, and honey until well combined. Season with salt and pepper.
7
Dice the mozzarella, halve the tomatoes. Add them both into the bowl with the pasta, drizzle the dressing into the bowl, toss lightly until coated evenly and top with the basil and chicken.