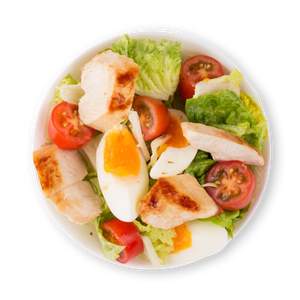 Caesar's Chicken Salad
Enjoy our recipe Caesar's Chicken Salad by feastr. Ideal to gain weight and build muscles. Low Carb, High Protein, and very tasty.
Recipe instructions:
1
Cook the eggs for approx. 8 minutes until hard boiled. Peel and cut into quarters.
2 Eggs (~ 3.9 oz)
2
Halve the cherry tomatoes, cut the lettuce into bite-size pieces, and grate the Parmesan.
3
Finely chop the garlic and cut the chicken breast into strips.
4
Mix the yogurt, cottage cheese, lemon juice, garlic and olive oil until creamy.
3 Tbsp Low fat yogurt

2 Tbsp Cottage cheese

½ Lemon (~ 1 oz)

2 tsp Olive oil
5
Heat the canola oil in a non-stick frying pan over high heat. Fry the chicken until golden brown. Make sure the chicken is fully cooked.
2 tsp Canola oil
6
Mix the all ingredients and dressing in a bowl. Season with salt and pepper.
Salt

Black pepper