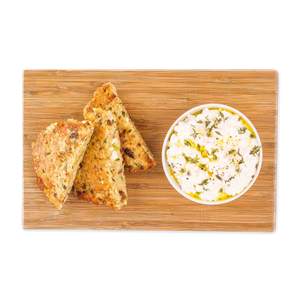 Bulgur Feta Fritters
Enjoy our vegetarian recipe Bulgur Feta Fritters by feastr. Ideal to lose weight. High Protein and very tasty.
Recipe instructions:
1
Prepare the bulgur according to the package instructions.
¼ cup Bulgur wheat
2
Cut the green onion into thin rings and finely chop the mint, parsley, raisins, and feta and put everything in a bowl.
½ Green onion (~ 0.6 oz)

8 leaves of Mint, fresh (~ 0.2 oz)

2 twigs of Parsley, fresh or frozen (~ 1 tsp)

1 ⁠½ Tbsp Raisins

2.5 oz Feta cheese, reduced fat
3
Add the bulgur and cumin to the bowl. Mix well and season with salt and pepper.
½ tsp Cumin, ground

Black pepper

Salt
4
Add the egg, flour, and yogurt to the bowl and mix well.
1 Egg (~ 1.9 oz)

¼ cup Whole wheat flour

3 Tbsp Low fat yogurt
5
Heat the olive oil in a non-stick frying pan over medium heat. For each fritter, scoop a spoon of dough into the pan and fry it from both sides until golden brown.
1 Tbsp Olive oil
6
Mix the yogurt and water until creamy. Season with lemon juice, salt, and pepper.
½ cup Low fat greek yogurt

½ Lime, organic (~ 0.7 oz)

Salt

Black pepper

Water
7
Serve the cakes with the dip.