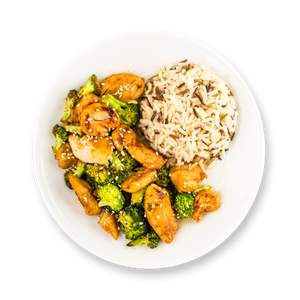 Broccoli Chicken with Rice
Enjoy our recipe Broccoli Chicken with Rice by feastr. Ideal to lose weight. High Protein and very tasty.
Recipe instructions:
1
Finely chop the garlic and ginger. Finely slice the spring onion.
2
Cut the chicken breast into strips.
7.1 oz Chicken breast
3
Mix the garlic, ginger, soy sauce, white wine vinegar, honey, sesame oil, starch and vegetable stock in a bowl and set aside.
4
Toast the pumpkin seeds on medium heat in a non-stick frying pan without oil until golden brown. Stir occasionally. Set aside.
2 tsp Sesame seeds
5
Prepare the rice according to the package instructions.
½ cup Rice
6
Heat the canola oil in the frying pan over high heat and fry the chicken until golden brown, season with salt and pepper and set aside.
2 tsp Canola oil

Salt

Black pepper
7
Turn the heat to medium, add the green onions and broccoli and fry for approx. 5-6 minutes. Add the garlic-ginger sauce and chicken and cook until the sauce is creamy.
5.6 oz Broccoli, frozen
8
Serve the broccoli chicken on a bed of rice and top with the sesame seeds.