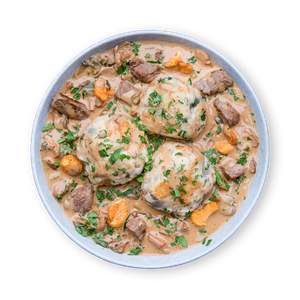 Bread Dumplings with Shredded Beef
Enjoy our recipe Bread Dumplings with Shredded Beef by feastr. Ideal to lose weight. High Protein and very tasty.
Recipe instructions:
1
Dice the whole wheat rolls into approx. ½ in cubes and put in a bowl. Finely chop the onion.
2 Whole wheat rolls (~ 4.2 oz)

½ Onion, yellow (~ 1.4 oz)
2
Chop the parsley. Heat the canola oil in a non-stick frying pan over medium heat. Add the onion and parsley and fry until the onions turn translucent. Then add to the bowl which contains the diced bread.
3
Bring a pot with water to a boil, turn down the heat until it only simmers and add the salt.
Water

Salt
4
Add the egg, nutmeg, flour, salt, and pepper into the bowl and mix well.
1 Egg (~ 1.9 oz)

1 pinch of Nutmeg, ground

1 ⁠½ Tbsp Flour, all-purpose

Salt

Black pepper
5
Heat the milk in a pot until it is lukewarm, pour it into the bowl with the onions and the bread and mix well.
½ cup Low fat milk
6
Wet your hands and shape golf ball sized dumplings from the mixture. Place the dumplings in the boiling water and let simmer for approx. 20 minutes with the lid closed. Turn the dumplings halfway through the cooking time.
7
Clean and thinly slice the mushrooms. Cut the green onions into rings.
8
Cut the meat into thin strips.
5.3 oz Sirloin steak
9
Heat the canola oil in a non-stick frying pan over high heat. Fry the meat until browned and set aside.
1 tsp Canola oil
10
Turn the heat to medium and fry the green onions and mushrooms for approx. 3-4 minutes until the vegetables are slightly browned.
11
Mix the starch with cold water.
2 tsp Cornstarch

1 ⁠½ Tbsp Water
12
Stir in the vegetable broth, sour cream, starch-water mix, and mustard, and let simmer until the sauce is creamy.
2⁄3 cup Vegetable broth

2 Tbsp Sour cream, light

1 tsp Yellow mustard
13
Season with salt and pepper, turn off the heat, add the beef and meat juice to the pan and warm with the residual heat. Serve the dumplings.
Salt

Black pepper