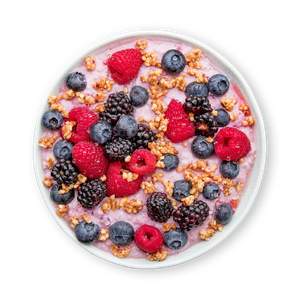 Bircher Berry Oats
A berry delicious twist on the classic Swiss muesli. Topped with roasted hazelnuts, you are sure to have a great start to your day.
Recipe instructions:
1
Mix the oats, milk, and vanilla in a bowl. Put the bowl into the refrigerator and let sit for 10 minutes.
2
Toast the hazelnuts on medium heat in a non-stick frying pan without oil until golden brown and set aside.
3
Add the berries to the pan and cook until defrosted.
¾ cup Berry mix, frozen
4
Take your oats out of the fridge. Stir the yogurt and honey into the oatmeal. Top with the berries and hazelnuts.