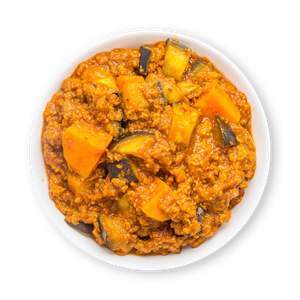 Beefy Eggplant Stew
Enjoy our recipe Beefy Eggplant Stew by feastr. Ideal to gain weight and build muscles. High Protein and very tasty.
Recipe instructions:
1
Dice the pepper and eggplant into approx. ½ in cubes and finely chop the onion.
1 Bell pepper, red (~ 5.1 oz)

1 Onion, yellow (~ 2.8 oz)

½ Eggplant (~ 5.6 oz)
2
Drain the rinse corn in a colander.
1 cup Sweet corn, canned
3
Heat a large pot over high heat and sear the minced meat.
7.9 oz Ground beef
4
When the meat begins to brown, add the onions and fry until translucent.
5
Add the eggplant and fry for a few minutes and season with salt and pepper.
Salt

Black pepper
6
Add the pepper, corn, tomatoes, and broth.
7
Add the spices, season with salt and pepper and let simmer for approx. 20 minutes.
8
Serve the stew with the whole grain bun.