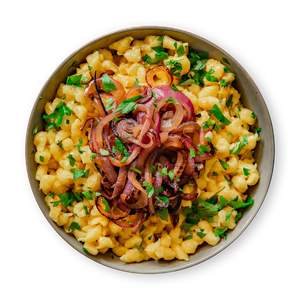 Bavarian Cheese Spätzle
Enjoy our vegetarian recipe Bavarian Cheese Spätzle by feastr. Ideal to lose weight. Balanced and very tasty.
Recipe instructions:
1
Bring a pot with water to a boil and season with salt.
Salt
2
Add all ingredients for the batter into a bowl and whisk until smooth.
1 cup Flour, all-purpose

1 Egg (~ 1.9 oz)

¼ cup Water

Salt
3
Add the batter into the potato press and press it gently and slowly into the pot. When the Spaetzle swim on the surfaces you can remove them with a skimmer.
4
Thinly slice the onion.
1 Onion, red (~ 3 oz)
5
Heat the canola oil in a non stick frying pan over medium heat. Add the onions into the pan, fry until they start to brown and remove from the pan.
1 tsp Canola oil
6
Add the canola oil and spaetzle into the pan and fry until they are golden brown. Add the cheese, fry until it i melted and serve with the onions.
7
Coarsely chop the parsley. Season your dish with salt and pepper and top with the parsley.