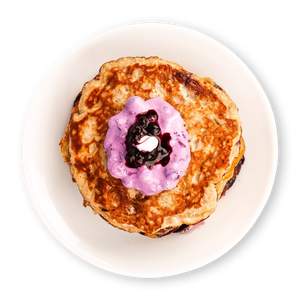 Banana Pancakes
Enjoy our vegetarian recipe Banana Pancakes by feastr. Ideal to lose weight. Balanced and very tasty.
Recipe instructions:
1
In a bowl, mix the yogurt, blueberries, and honey.
¾ cup Low fat yogurt

½ cup Blueberries

1 ⁠½ tsp Honey
2
In a second bowl, mash the banana until smooth.
1 Banana (~ 4.1 oz)
3
Add the eggs, baking powder, and a pinch of salt to the bowl and mix until smooth.
2 Eggs (~ 3.9 oz)

¼ tsp Baking powder

Salt
4
Heat the canola oil in a non-stick frying pan over medium heat and wipe it with a paper towel.
2 tsp Canola oil
5
For each pancake scoop one tablespoon of the batter into the pan. Bake 3-4 pancakes at a time. Turn the pancakes as soon as you see bubbles. Bake until golden brown. Wipe the pan with the oiled paper towel after each batch of pancakes.
6
Serve the pancakes with yogurt.