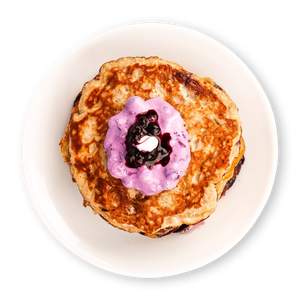 Banana Oatmeal Pancakes
Enjoy our vegetarian recipe Banana Oatmeal Pancakes by feastr. Ideal to lose weight. Balanced and very tasty.
Recipe instructions:
1
Preheat the oven to 350 °F.
2
In a large bowl, mash the banana until lump free.
1 Banana (~ 4.1 oz)
3
Add the canola oil, milk and honey and mix thoroughly.
2 tsp Canola oil

2⁄3 cup Low fat milk

1 ⁠½ tsp Honey
4
Add the ingredients listed below and mix thoroughly until your dough is smooth.
¼ cup Whole grain rye flour

2⁄3 cup Whole grain rolled oats

1 tsp Baking powder

1 tsp Cinnamon, ground

1 pinch of Salt
5
Line a baking tray with parchment paper. For each pancake, spoon about 3 tablespoons of batter on to the parchment paper. Use the back of the spoon to spread into circles. Bake for approx. 30 minutes until golden brown.
6
Mix the blueberries, yogurt, and honey in a bowl.
1⁄3 cup Blueberries

¾ cup Low fat yogurt

1 ⁠½ tsp Honey
7
Serve the pancakes with yogurt.