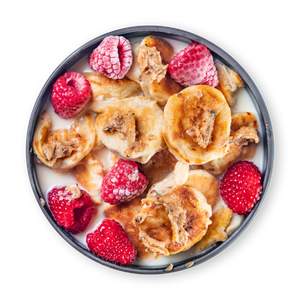 Banana Bites Bowl
Enjoy our vegetarian recipe Banana Bites Bowl by feastr. Ideal to lose weight. Balanced, quick, and very tasty.
Recipe instructions:
1
Add all ingredients into a bowl and whisk until you get a smooth batter.
2
Peel the banana and slice.
1 Banana (~ 4.1 oz)
3
Heat the oil in a non stick frying pan over medium heat. Dip the banana slices into the batter and fry them until golden brown.
2 tsp Canola oil
4
Put the Banana Bites and raspberries into the bowl, fill up with the milk and top with the peanut butter.