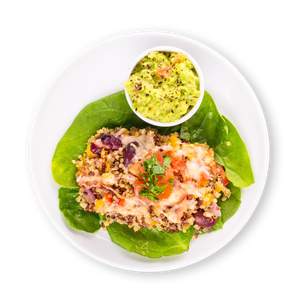 Baked Quinoa with Chicken
Enjoy our recipe Baked Quinoa with Chicken by feastr. Ideal to lose weight. Balanced and very tasty.
Recipe instructions:
1
Cook the quinoa according to the package instructions.
1⁄3 cup Quinoa
2
Finely slice the chicken breast.
3.5 oz Chicken breast
3
Rinse and drain the kidney beans and corn in a colander and transfer to a baking dish.
4
Dice the pepper and finely chop the onion, garlic, and cilantro. Put the onions and garlic in a bowl and add the pepper and cilantro into the baking dish.
1 Bell pepper, yellow (~ 4.9 oz)

½ Onion, yellow (~ 1.4 oz)

½ Garlic clove (~ 0.1 oz)

7 twigs of Cilantro, fresh or frozen (~ 1 ⁠½ Tbsp)
5
Preheat the oven to 350 °F.
6
Heat the olive oil in a non-stick frying pan over medium heat. Fry the onions, garlic, and chicken until the onions turn translucent and the chicken is golden brown. Transfer to the baking dish.
2 tsp Olive oil
7
Add the quinoa to the baking dish. Season with cumin, crushed pepper, and salt.
¼ tsp Cumin, ground

¼ tsp Crushed pepper

Salt
8
Sprinkle evenly with cheese and bake for approx. 15 minutes.
9
In a bowl, mash the avocado with a fork. Finely chop the tomatoes and add to the bowl. Mix well and season with salt and pepper.
½ Avocado (~ 3.5 oz)

1.8 oz Cherry tomatoes

Salt

Black pepper
10
Serve the baked quinoa with the avocado cream.