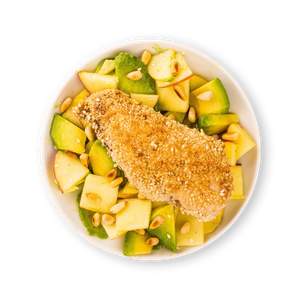 Avocado Sesame Chicken
Enjoy our recipe Avocado Sesame Chicken by feastr. Ideal to lose weight. Low Carb, High Protein, and very tasty.
Recipe instructions:
1
Dice the apple and avocado into approx. ¾ in cubes and place in a bowl.
½ Apple (~ 3.2 oz)

½ Avocado (~ 3.5 oz)
2
Add the olive oil and lime juice and season with salt and pepper.
3
Toast the pine nuts on medium heat in a non-stick frying pan without oil until golden brown and set aside.
1 Tbsp Pine nuts
4
Whisk the egg in a bowl, season with salt and pepper.
1 Egg (~ 1.9 oz)
5
Dip the chicken into the egg to coat. Allow the excess to drip off for a few seconds, then roll in the sesame seeds until coated.
8.8 oz Chicken breast

2 Tbsp Sesame seeds
6
Heat the canola oil in the non-stick frying pan over high heat. Fry the chicken from both sides until golden brown, turn the heat to medium and keep frying until the chicken is fully cooked.
1 tsp Canola oil
7
Serve the chicken on a bed of apple avocado salad and top with the pine nuts.