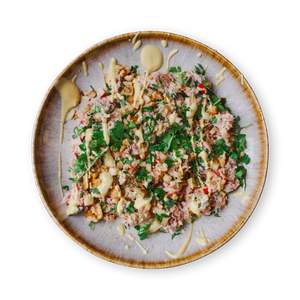 Apple Tuna Salad with Walnuts
Enjoy our recipe Apple Tuna Salad with Walnuts by feastr. Ideal to lose weight. Low Carb, High Protein, and very tasty.
Recipe instructions:
1
Drain the tuna and put in a bowl. Chop the walnuts, set 1⁄3 aside and add the remaining walnuts into the bowl.
2
Wash, core and dice the apple. Chop the parsley and add both into the bowl.
3
In a small bowl mix joghurt, mustard and apple vinegar. Season with sugar, salt and pepper.
2 Tbsp Yogurt

1 tsp Dijon mustard

1 tsp Cider vinegar

Granulated sugar

Salt

Black pepper
4
Add the dressing into the bowl, mix and top with the remaining walnuts and basil.