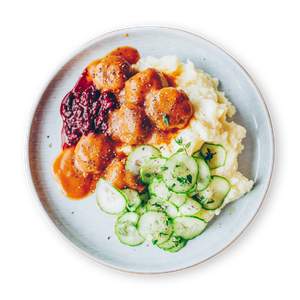 Juicy Meatballs with Mashed Potatoes and Cucumber Salad
Enjoy our vegetarian recipe Juicy Meatballs with Mashed Potatoes and Cucumber Salad by feastr. Ideal to lose weight. Balanced and very tasty.
Recipe instructions:
1
Bring a pot of water to a boil. Peel and dice the potatoes into approx. ¾ in cubes. Add the potatoes to the pot and cook until tender.
2
Slice the cucumber thinly, finely chop the Slice the onion and add everything into a bowl.
3
Chop the dill and add into the bowl together with olive oil, vinegar, salt and honey. Mix well and set aside.
4
Melt the margarine on medium heat. Stir in the flour and brown it for 1-2 minutes. Add the vegetable stock turn down the heat and let simmer for 5-10 minutes. Stir occasionally.
5
Season with soy sauce and pepper, bring to a boil for one last time and turn off the heat.
Soy sauce, light

Black pepper
6
In a bowl mix the minced meat, breadcrumbs, egg, and tomato paste. Season with salt and pepper and form meatballs out of the dough.
7
Drain the potatoes. Add the milk and mash until creamy. Season with salt, pepper, and nutmeg. Cover with a lid to keep warm.
1⁄3 cup Low fat milk

Salt

Black pepper

¼ tsp Nutmeg, ground
8
Heat the canola oil in a non stick frying pan over medium heat. Add the meatballs into the pan and fry for approx. 6-8 minutes until golden brown.
1 tsp Canola oil
9
Serve the mashed potatoes with your cucumber salad, meatballs and sauce.