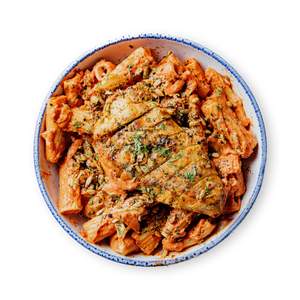 Mint Garlic Tomato Pasta Iskender Style
Have you ever cooked with dried mint? It is very typical for turkish cusine. Try our Mint Garlic Tomato Pasta
Recipe instructions:
1
Cook the pasta according to the package instructions.
4.4 oz Penne
2
Place the chicken substitute with the cream cheese, mint, olive oil, salt and chili flakes into a bowl, mix well and add onto a baking tray lined with parchment paper. Bake for 20-25 minutes.
3
Finely chop the garlic. Heat the oil in a non-stick pan over medium heat. Add the tomato paste, garlic and herbs, and fry for approx. 1-2 minutes.
1 Garlic clove (~ 0.1 oz)

1 Tbsp Olive oil

1 ⁠½ Tbsp Tomato paste

1 tsp Mint, dried

½ tsp Sweet paprika, ground

½ tsp Crushed pepper
4
Add water, mix well until combined, season with salt and let simmer for approx. 5-10 minutes.
2⁄3 cup Water

Salt
5
Stir in the cream cheese, season with lemon juice, cook for an additional 5 minutes, turn of the heat, add the pasta and mix well.
2 Tbsp Cream cheese

¼ tsp Lemon juice
6
Serve the penne in a bowl and top with the chicken substitute.