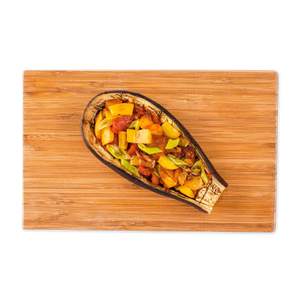 Veggie Stuffed Eggplants
Enjoy our recipe Veggie Stuffed Eggplants by feastr. Ideal to lose weight. Balanced and very tasty.
Recipe instructions:
1
Preheat the oven to 350 °F.
2
Halve the eggplants lengthwise. With the tip of a knife make small incisions in a crosshatch pattern. Rub with the olive oil and season with salt. Place the eggplant halves on a baking tray lined with parchment paper and bake for approx. 20-30 minutes.
2 Eggplants (~ 1.4 lbs)

2 tsp Olive oil

Salt
3
Finely chop the vegetables and parsley.
1 Shallot (~ 0.9 oz)

1 Garlic clove (~ 0.1 oz)

1 Bell pepper, yellow (~ 4.9 oz)

2 Green onions (~ 2.5 oz)

6 twigs of Parsley, fresh or frozen (~ 1 Tbsp)
4
Take the baking tray out of the oven. Using a spoon, scrape the pulp out of the eggplants, turn the oven to 150 °F and place the eggplant halves back in the oven. Finely chop the eggplant pulp.
5
Heat the olive oil in a non-stick frying pan over medium heat. Sauté the garlic and shallots until the shallots turn translucent. Add the pepper and fry for approx. 2 minutes.
1 Tbsp Olive oil
6
Add the chopped tomatoes, green onion, eggplant, and parsley.
7
Season with salt and pepper. Let simmer for approx. 15 min. Turn off the heat.
Salt

Black pepper
8
Mix the yogurt and balsamic vinegar until creamy and season with oregano, salt, and pepper.
9
Take the baking tray out of the oven. Fill the eggplants with veggies and serve with the yogurt.