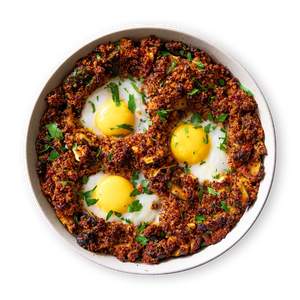 Quinoa Power Bowl
Enjoy our vegetarian recipe Quinoa Power Bowl by feastr. Ideal to lose weight. Balanced and very tasty.
Recipe instructions:
1
Prepare the quinoa according to the package instructions.
1⁄3 cup Quinoa
2
Dice the zucchini, cut the green onion into rings and finely chop the olives and tomatoes.
3
Preheat the oven to 400 °F.
4
Heat the olive oil over medium heat in a non stick pan. Add the veggies into the pan and fry until it starts to brown. Add the rosemary, tomato paste, and white wine into the pan and let simmer for approx. 3 minutes.
5
Add the quinoa into the pan, crumble the feta on top and mix well.
2.1 oz Feta cheese
6
Add the quinoa veggie mix into an baking dish. Season with salt and pepper. With the back of a spoon form a well in the sauce for the egg.
Salt

Black pepper
7
Crack the egg into the well. Bake for approx. 15-20 minutes until golden and fluffy.
1 Egg (~ 1.9 oz)