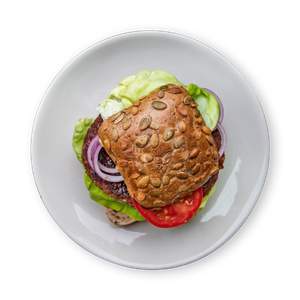 Juicy Bean Burger
Vegetarian burgers can be made from many different ingredients. We love this variation made from beans and mushrooms. Why don't you give it a try?
Recipe instructions:
1
In a small bowl, mix the flax seeds and water and let sit for approx. 10 minutes.
2
Put the beans, oats, salt, pepper, and paprika powder in a bowl and blend with an immersion blender until smooth but still a bit chunky.
¾ cup Kidney beans, canned

½ cup Whole grain rolled oats

Salt

Black pepper

½ tsp Hot paprika, ground
3
Finely chop the mushrooms and onion.
1.8 oz Mushrooms

½ Onion, red (~ 1.5 oz)
4
Heat the olive oil in a non-stick frying pan over medium heat and fry the mushrooms and onions until the onions turn translucent.
1 tsp Olive oil
5
Add the honey and soy sauce and let simmer for approx. 1 minute, turn off the heat and transfer the contents of the pan to the bowl with the beans.
6
Add the flax seeds and walnuts to the bowl and blend coarsely.
2 ⁠½ Tbsp Walnuts
7
Form fist-sized, approx. ½ in thick patties and leave to rest in the refrigerator for 10 minutes.
8
Wash the lettuce, slice the tomato and onion and spread the ketchup onto the rolls.
2 leaves of Lettuce (~ 0.6 oz)

½ Tomato (~ 2.1 oz)

½ Onion, red (~ 1.5 oz)

1 ⁠½ Tbsp Ketchup

2 Whole wheat rolls (~ 4.2 oz)
9
Heat the olive oil in the non-stick frying pan over medium heat and fry the patties for approx. 4-5 minutes from each side until golden brown. Assemble your burger.
1 tsp Olive oil