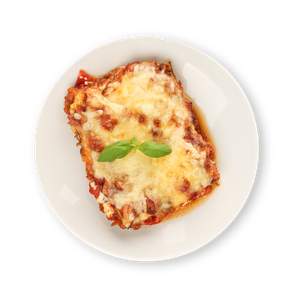 Fresh Zucchini Lasagna
Enjoy our vegetarian recipe Fresh Zucchini Lasagna by feastr. Ideal to lose weight. Low Carb and very tasty.
Recipe instructions:
1
Dice the onion and carrot, finely chop the garlic and put into a bowl. Mash the tofu with a fork until crumbly.
1 Onion, yellow (~ 2.8 oz)

1 Carrot (~ 3.4 oz)

1 Garlic clove (~ 0.1 oz)

5.3 oz Tofu
2
Heat the canola oil in a non-stick frying pan over high heat. Fry the tofu until golden brown. Turn the heat to medium, add the onions, carrot, and garlic and fry until the onions turn translucent.
2 tsp Canola oil
3
Season with salt and pepper, stir in the tomato paste, add the red wine and let simmer for 2-3 minutes.
Salt

Black pepper

1 Tbsp Tomato paste

3 ⁠½ Tbsp Red wine
4
Add the diced tomatoes, season with basil and oregano and let simmer for approx. 10 minutes.
14.1 oz Tomatoes, diced, canned

½ tsp Basil leaves, dried

½ tsp Oregano leaves, dried
5
Mix the sour cream, salt, nutmeg, and pepper in a small bowl. Preheat the oven to 400 °F.
1⁄3 cup Sour cream, light

Salt

1 pinch of Nutmeg, ground

Black pepper
6
Cut the zucchini lengthwise into thin slices.
1 Zucchini (~ 7.8 oz)
7
To assemble spread a layer of tomato sauce into the baking dish. Add a thin layer of cream mixture. Cover with zucchini slices. Repeat layering until you are out of zucchini slices and sauce.
8
Spread the cheese evenly onto the top layer. Bake for approx. 25-30 minutes until golden brown.