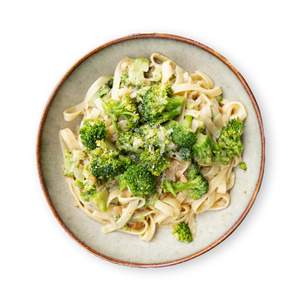 Creamy Brokkoli Pasta
Enjoy our vegan recipe Creamy Brokkoli Pasta by feastr. Balanced and very tasty.
Recipe instructions:
1
Take the broccoli out of the freezer to defrost. Finely chop onion and garlic.
7.1 oz Broccoli, frozen

1 Onion, yellow (~ 2.8 oz)

2 Garlic cloves (~ 0.2 oz)
2
Heat the oil in a non-stick frying pan. Add the onions, bacon substitute, garlic, and fry until the onions turn translucent.
3
Cook the pasta according to the package instructions. Save a cup of pasta water when straining the pasta.
4.4 oz Linguini
4
Add the broccoli into the pan and fry until the broccoli is completely defrosted. Deg laze with white wine and let simmer briefly.
2 Tbsp White wine
5
Add vegan cream and pasta water, season with salt, pepper, and nutmeg and let simmer for 10–15 minutes until the sauce thickens.
6
Turn off the heat, add the pasta, mix well and serve.