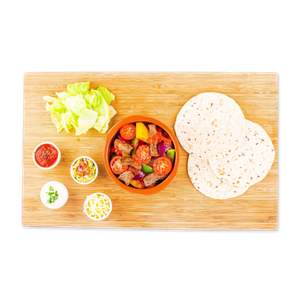 Ultimate Veggie Fajitas
Vegan Fajitas with guacamole, soy yogurt dip, and ketchup in a tortilla filled with roasted bell peppers, onions, and vegan meat strips.
Recipe instructions:
1
Cut the lettuce into bite-size pieces and put on a plate. Chop the onion and bell peppers coarsely and put on a second plate.
1 Romaine lettuce (~ 4.2 oz)

1 Onion, yellow (~ 2.8 oz)

1 ⁠½ Bell peppers, red (~ 7.7 oz)
2
For your guacamole, mash the avocado in a bowl. Add ¼ of the onions, mix and season with salt, pepper, and lemon juice.
½ Avocado (~ 3.5 oz)

Salt

Black pepper

½ Lemon (~ 1 oz)
3
Place the vegan meat strips in a bowl, cover with boiling water, let sit for approx. 10 minutes and squeeze out as much excess water as you can.
4
In a bowl, mix the soy yogurt, salt, pepper, and crushed pepper until creamy.
1⁄3 cup Soy yogurt

Salt

Black pepper

½ tsp Crushed pepper
5
Heat the canola oil in a non-stick frying pan over high heat. Add the vegan meat substitute, pepper, and onions and fry for approx. 2-3 minutes until the onions turn translucent.
1 tsp Canola oil
6
Turn the heat to medium, stir in the tomato paste and fry for 2 minutes.
1 Tbsp Tomato paste
7
Add the vegetable broth and crushed pepper and cook until reduced completely.
2⁄3 cup Vegetable broth

½ tsp Crushed pepper
8
Place the tortillas in a pan over medium heat and warm them for approx. 20 seconds from each side.
9
Build your Tortilla by topping it with salad, sauces and veggie mix. Fold up the bottom to cover the filling then fold in the edges. Roll up to seal. Secure by wrapping with foil if you want.
1 ⁠½ Tbsp Ketchup