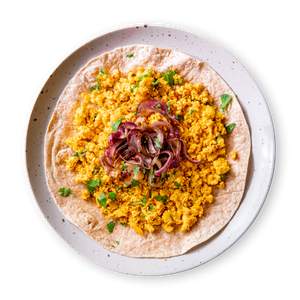 Vegan Scrambled Eggs Tortillas Caramelized Onions
Enjoy our recipe Vegan Scrambled Eggs Tortillas Caramelized Onions by feastr. Ideal to lose weight. Balanced, quick, and very tasty.
Recipe instructions:
1
Finely dice the onion and crumble the tofu.
½ Onion, red (~ 1.5 oz)

7.1 oz Tofu
2
Heat the canola oil in an non stick frying pan over medium heat. Add the tofu and onions and fry for approx 3-4 minutes.
1 Tbsp Canola oil
3
Turn down the heat. Add the paprika, pepper, and nutmeg into the pan and fry for approx. 1-2 minutes.
½ tsp Sweet paprika, ground

Black pepper

1 pinch of Nutmeg, ground
4
Add the soy yogurt, let simmer for approx. 2 minutes and turn off the heat.
3 Tbsp Soy yogurt
5
Finely chop the chives, mix with the scrambled tofu and Kala Namak salt.
6
Top the tortillas with tomatoes, and scrambled tofu.
7
Season with salt and pepper. Fold up the bottom to cover the filling then fold in the edges. Roll up to seal. Secure by wrapping with foil if you want.
Salt

Black pepper