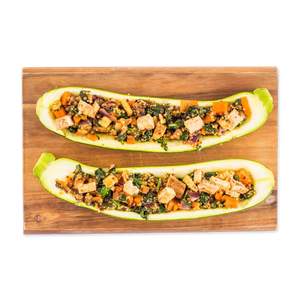 Quinoa Zucchini Boats
Enjoy our vegan recipe Quinoa Zucchini Boats by feastr. Ideal to lose weight. Balanced and very tasty.
Recipe instructions:
1
Preheat the oven to 350 °F.
2
Halve the zucchinis and carefully remove the seeds and pulp with a spoon.
2 Zucchinis (~ 15.5 oz)
3
Rub the zucchini halves with garlic and olive oil. Season with salt and pepper.
4
Pierce the zucchini flesh a couple of times using a fork. Make sure not to damage the skin of the zucchini.
5
Line a baking tray with parchment paper. Place the zucchini halves onto the baking tray with the cutting surface pointing upwards and bake for approx. 15 minutes until the zucchini halves are soft.
6
Cook the quinoa according to the package instructions.
¼ cup Quinoa
7
Finely chop the tofu, onion, garlic, carrot, and zucchini core.
8
Heat the olive oil in a non-stick frying pan over medium heat and fry the tofu, carrots, zucchini, and onion until the onions turn translucent. Season with curry powder and crushed pepper.
1 Tbsp Olive oil

1 tsp Curry powder

½ tsp Crushed pepper
9
Add the spinach and turn off the heat as soon as the spinach wilts. Add the quinoa and mix well.
2.6 oz Spinach, frozen
10
Take the baking tray out of the oven, fill with the quinoa spinach mixture, top with the vegan cheese and bake for approx. 10-12 minutes.