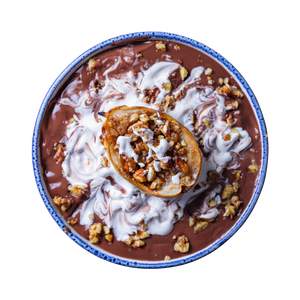 Protein Chocolate Pear Pudding
Start your day with something sweet and delicious. We recommend chilling the pudding as long as you can before eating it.
Recipe instructions:
1
Mix the milk with starch, cocoa, and protein powder until everything has dissolved.
½ cup Plant milk, unsweetened (e.g. almond)

¼ cup Cornstarch

1 ⁠½ Tbsp Cocoa powder

1⁄3 cup Protein powder, vegan
2
Heat the milk and agave syrup in a pot. When it starts to boil, turn off the heat, add the starch-milk mix and cook, stirring constantly, until the milk thickens. Add the chocolate, and pour into a bowl and let cool down.
3
Preheat the oven to 350 °F.
4
Halve and core the pear Place on a baking tray lined with parchment paper, fill the pear halves with walnuts, margarine, sugar, and cinnamon and bake for 20-30 minutes until the pears are soft.
1 Pear (~ 6.7 oz)

2 ⁠½ Tbsp Walnuts

2 tsp Margarine

1 tsp Brown sugar

¼ tsp Cinnamon, ground
5
Whip the cream and top your pudding with the pear and cream.