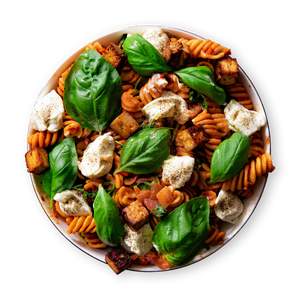 One Pot Pasta alla Vesuviana
Enjoy our vegan recipe One Pot Pasta alla Vesuviana by feastr. Ideal to lose weight. Balanced and very tasty.
Recipe instructions:
1
Dice the tofu.
5.3 oz Smoked tofu
2
Cut the onion into thin rings and finely chop the garlic and basil.
1 Onion, red (~ 3 oz)

1 Garlic clove (~ 0.1 oz)

15 leaves of Basil, fresh (~ 0.1 oz)
3
Heat the olive oil in a pot over medium heat. Add the onions, tofu, basil, crushed peppers into the pot and fry until the onions turn translucent. Add the garlic and fry for a few seconds.
2 tsp Olive oil

¼ tsp Crushed pepper
4
Add the pasta, tomatoes, and vegetable broth into the pot and let simmer as indicated on the package instructions. Stir occasionally. Add water if needed.
4.4 oz Farfalle, whole grain

¾ cup Tomato sauce, canned

1 cup Vegetable broth
5
Wash the arugula. When the pasta is cooked turn of the heat, add the arugula and cream cheese into the pot, mix well and season with salt and pepper.
0.7 oz Arugula

¼ cup Vegan cream cheese

Salt

Black pepper