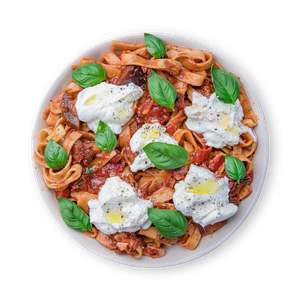 Linguine alla Norma
Enjoy our vegan recipe Linguine alla Norma by feastr. Ideal to lose weight. Balanced, quick, and very tasty.
Recipe instructions:
1
Preheat the oven to 400 °F.
2
Finely chop the onion and garlic and put into a bowl. Dice the eggplant and put into a second bowl.
½ Onion, yellow (~ 1.4 oz)

1 Garlic clove (~ 0.1 oz)

½ Eggplant (~ 5.6 oz)
3
Add the olive oil into the bowl with the eggplant, season with salt and pepper, place on a baking sheet lined with parchment paper and bake for approx. 20-30 minutes.
1 Tbsp Olive oil

Salt

Black pepper
4
Heat the olive oil in a non-stick frying pan over medium heat and sauté the garlic and onion until the onions turn translucent.
1 tsp Olive oil
5
Cook the linguini according to the package instructions.
3.2 oz Linguini
6
Add the tomatoes, red wine, agave syrup, and thyme to the pan and let simmer for approx. 8 minutes.
7.1 oz Tomatoes, diced, canned

1 tsp Thyme leaves, dried

¾ tsp Agave syrup

2 Tbsp Red wine
7
Add the eggplant into the pan and turn off the heat.
8
Season with salt and pepper. Serve the pasta with sauce and top with the cream cheese and basil.